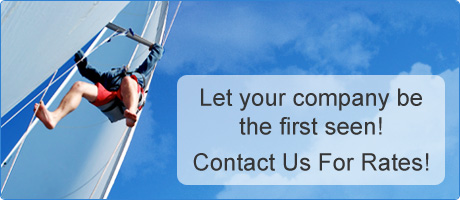 Whether you're chartering a sailboat, taking a bay cruise, cruising from San Diego to Mexico, or taking sailing lessons in San Diego, knowing the weather conditions, and the San Diego Wind and Marine forecast in particular are critical. We have assembled several weather and wind resources on this page to help you get the local San Diego weather information you need. <-- continued below -->
You can review the San Diego Marine Forecast from NOAA for details on what is in store for San Diego's coastal weather. The San Diego Marine Information System also has valuable weather, wind and tide information.
San Diego enjoys a very temperate climate and consistent breezes that makes it a favorite sailing spot for California and the west coast in general. While San Diego doesn't typically have the wind intensity of the San Francisco Bay Area, it does have very comfortable sailing temperatures making it ideal for days sails, bay cruises and sailing the beautiful San Diego coastal area.
We are also happy to feature detailed San Diego wind conditions and wind forecasts thanks to our friends at WindAlert.com. The wind information above shows yesterday's wind record, real time wind conditions from two popular local weather stations, and even wind forecast information. Clicking any of the weather feeds above will take you to more detailed local San Diego wind and weather information.
If you're visiting San Diego, or just curious about San Diego's weather statistics, Wikipedia details our weather as follows: "San Diego's climate is characterized by warm, dry summers and mild winters with most of the annual precipitation falling between November and March. The city has mild, mostly dry weather, with an average of 201 days above 70 °F (21 °C) and low rainfall (9-13" annually). Summer temperatures are generally warm, with average highs of 70–78 °F (21–26 °C) and lows of 55–66 °F (13–19 °C). Temperatures exceed 90 °F (32 °C) only four days a year. Most rainfall occurs from November to April. Winter temperatures are mild, with average high temperatures of 66–70 °F (19–21 °C) and lows of 50–56 °F (10–13 °C).
The climate in the San Diego area, like much of California, often varies significantly over short geographical distances resulting in microclimates. In San Diego's case this is mainly due to the city's topography (the Bay, and the numerous hills, mountains, and canyons). Frequently, particularly during the "May gray/June gloom" period, a thick "marine layer" cloud cover will keep the air cool and damp within a few miles of the coast, but will yield to bright cloudless sunshine approximately 5–10 miles (8.0–16 km) inland. This happens every year in May and June. Even in the absence of June gloom, inland areas tend to experience much more significant temperature variations than coastal areas, where the ocean serves as a moderating influence. Thus, for example, downtown San Diego averages January lows of 50°F and August highs of 78°F. The city of El Cajon, just 10 miles northeast of downtown San Diego, averages January lows of 42°F and August highs of 88°F.
Rainfall along the coast averages about 10 inches (250 mm) of precipitation annually, which occurs mainly during the cooler months of December through April. Though there are few wet days per month during the rainy period, rainfall can be heavy when it does fall. However, the rainfall is greater in the higher elevations of San Diego. Some of the higher areas of San Diego can receive 11–13 inches (280–330 mm) of rain a year."